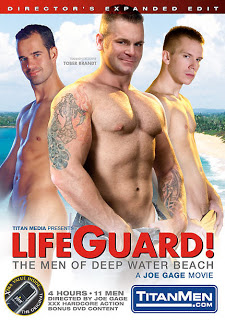 Repost from old blog, 3/18/2007
Pull up a chair – this is a long one, but it's worth it.
I've been a fan of porn director Joe Gage for a little while now. He directed some of the most well-respected and enduring porn films of the seventies – in particular the trilogy of "Kansas City Trucking Co.," "El Paso Wrecking Corp.," and "L.A. Tool & Die."
Last week I read a review in the local gay newspaper of one of his newer films for Titan Media, Lifeguard! The Men of Deep Water Beach. In particular, the review singled out the first scene – in which a young man (Colby Keller) is seduced by his future father-in-law (Cliff Rhodes) – as the film's best asset, and if you're at all familiar with my work, you know that kinda shit is right up my alley. I KNEW it was going to be a hot scene, and I anxiously sought out a copy of the film.
Then last weekend I'm sitting down to watch it, and I notice something strange – the scene seemed to mirror a story I published on the Nifty Archive back in September 2001. The story in question was, in fact, my very first polished, published piece of erotic fiction – my Passions slash fic piece entitled "Breathe In, Breathe Out."
I paused the scene and pulled up my story next to it. Then I pressed play again, and read along. When it got to the point that I could anticipate what was going to come out of the characters's mouths next, I knew something was up.
At first I couldn't quite accept it. I mean, I'm willing to admit as much as anybody that I traffic in porn cliches – was it possible that I stole the story myself from somewhere else? However, I showed the scene to more people they all agreed that the similarities were too exact to be a coincidence. The wording, the phrasing – even my description of what the guys were doing – was being realized up there on the screen. And the writing in the movie was credited to Joe Gage. It blew my mind, it did.
It didn't help that I came down with a wicked stomach virus at exactly the same time I realized this. For three days I lay around puking and squirting out the contents of my stomach, my head swirling with an intense mix of emotions – pride for the fact that my work was being validated in this way, anger at it being used without my knowledge, sadness at the idea that I've been selling myself short for all these years – this was my first erotic story, and it was good enough to use as a porno script in a Joe Gage movie!
Finally I decided just to write Joe Gage and see what was up. I crafted a polite but firm list of demands – give me credit, give me compensation – and when I went to save it as a draft I hit "send" instead. Oh well. He got back to me in just a few hours – indignant at first, but willing to look into it. Apparently, he uses a lot of ideas that his fans send to him – which was something I'd never considered. He sent me a portion of the shooting script, which I found contained dialogue that didn't make the final cut of the film, and which also matched up nearly perfectly with my story. There was just no denying that this was my work.
He called me the next day, agreed that the dialogue was undoubtedly mine, and apologized. So far this had been shaping up as the single most surreal experience of my life, but getting a morning phone call from Joe Gage represented the apex. He promised to acknowledge me on his website and to send me a collection of his DVDs. By this point, I was pretty much over the anger I felt initially and was mostly just stoked that my work was up on screen, realized by a director I really respected, no less. So if he doesn't credit me on his website I won't feel too burned. But I better get those DVD's ( you reading this, Joe?).
What's more is that Mr. Gage had the opportunity to check out my work and now he is a fan. What a fucking trip. There is a possibility that Lifeguard won't be the last of my work you'll see directed by Joe Gage…but that's news for another time.
For now, check out Lifeguard if you want to see one of my porn stories come to (reel) life. It's a hot scene, for sure, and would probably be my favorite Joe Gage scene (if not my favorite porno scene ever) if not for what's been associated with it. As it is, I only jerked off to it once – and that was more out of duty than anything. I have nothing against jerking off to my own work (that used to be my primary purpose for writing porno stories, but I think my motivations have changed over the years), but in this instance, there's just too much baggage. A shame, really; but a small price to pay for this cracker of a story that I get to tell my grandchildren. When they're adults, of course.