bacteriaburger.blogspot.com
Bacteriaburgerhttp://www.blogger.com/profile/14000801520901644303bacteriaburger@gmail.com
/2009/09/thats-pretty-much-all-folks.html
Repost from old blog, 9/13/2009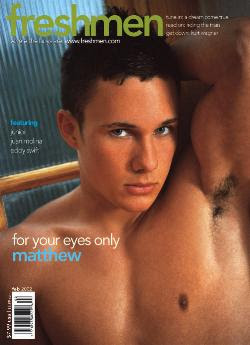 Maybe you've heard, maybe you could care less: publisher Unzipped Media has reduced the magazines "Men" and "Freshmen" to quarterly editions.  I don't entirely know what this means (sister magazine "Unzipped" is still monthly and may subsume some of the content from those titles), but it feels like the first nail in the coffin for gay erotic magazine fiction.
Other monthly magazines still exist – but they either pay only in trade (i.e. "Handjobs," a magazine I greatly respect and regularly contribute to) or are untrustworthy toward their writers (i.e. no comment).
It wasn't that long ago for me that a friend suggested that I send some of the erotic fiction I was publishing on Nifty to the newsstand porno mags. I scoffed at him. The idea of having my stories published in a national publication, especially one with the high production values of "Men," seemed like a pipe dream. But eventually I tried, and after getting rejected at least once, I got one in. I was ecstatic.
So I guess I hadn't realized how, over the years, I'd come to rely on those magazines – not just for the big checks (though those helped me out of more than a few financial tight spots), but for the platform. When I wrote a story I thought was good, I knew it had a place to go.
So this news, coming on the heels of the demise of Mavety Media, shook me up quite a bit. [It didn't help that, just before I learned of it, I read Stephen King's latest piece in "Entertainment Weekly" where he not only takes for granted that e-publishing is the only likely hope for novels, but notes that it currently turns no profit. Not what you want to hear when you're trying to publish your first book.]
Every writer needs an audience (well, maybe not every writer). And though I was and still am incredibly grateful and blessed to have the readers I have from Nifty and my website, it was thrilling to think that anybody across the country could pick up a copy of "Men" and read my work. I had a few instances where friends and coworkers, upon learning what I do, asked where and what I'd published recently, and then said "Oh my God – I read that story!"
Of course I may be getting ahead of myself. I just sold a story to "Men" earlier this month, though who knows what's to become of it now. But it feels like I've had the rug pulled out from under me. I'm reevaluating who my audience is, why I write what I write. It sucks to feel like something that you value more than anything else in your life is a dinosaur.
Yet I haven't forgotten that I started writing purely for my own amusement and pleasure. So really, if you think about it, nothing's changed. And maybe, just maybe, this takes a little bit of the pressure off. For me, the kiss of death comes when I hold myself to high standards, when I concern myself with something being "good," whatever that means.
I'm proud of the stories I've written, I'm proud of the book I completed. As long as I'm alive and I can keep writing, I think I'll be fine.
2 Comments