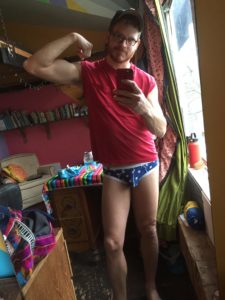 Looks like I'll be writing a novella based on My Boyfriend's Horny Brothers. Well, in fact, I've already started it. Very curious to see how it's going to turn out. It'll be fun to revisit that story and flesh it out a bit.
Thanks for voting in my poll and thanks, also, to those who downloaded my ebook Daddy's Home – particularly those who threw extra money my way when I did it as a pay-what-you-want download. I'm happy with how that went and I think I'll be selling more ebooks directly on here in the future.
A lil' life update: I just got back from a long camping trip. I'm in a period of transition right now: not writing as much as I'd like to be, but I'm starting to find my groove.
Above is a gratuitous pic of me in my underwear. Buy my ebook. 🙂
2 Comments