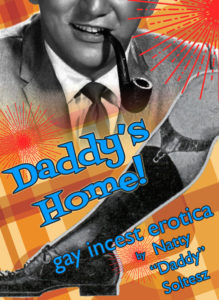 Hey, friends! My new ebook is for sale right here on this website. It's called Daddy's Home and it contains three stories of consensual incestuous debauchery. Check out the story descriptions here and grab yourself a copy!
Through Friday, July 27 I'm offering it as a pay-what-you-want download. That means it's free! Or $5 (suggested donation). Or, if you want to throw some support my way, bump it up!
This book contains all new material that I wrote during my stint on a commune in Tennessee, where I lived for the last two years. Maybe it was the newness of the experience that led me to retreat into comforting daddy/family fantasies. I didn't have much internet access down there and so my ability to release stuff and engage on the internet was limited. Well, Natty Daddy's back in the city (Pittsburgh), and I'm ready to show off what I've been working on. Get it right here. Hope you dig!
xo,
Natty
0 Comments