bacteriaburger.blogspot.com
Bacteriaburgerhttp://www.blogger.com/profile/14000801520901644303bacteriaburger@gmail.com
/2009/06/bruno-b.html
Repost from old blog, 6/26/2009
I got the latest issue of my Favorite Magazine, Handjobs, in the mail yesterday (Handjobs pays for stories in trade, so I submit a story every time I need to update my subscription).
Handjobs has presented a lot of great erotic artists over the years – it was where Josman got his first real exposure – but there's a story in this issue called "Cosmic Love" that really blew my mind. The artist – Bruno B. – has done stories for Handjobs before, and I thought they were interesting but not that much up my alley. He favors swarthy, rotund older men drawn manga style.
But the thing about "Cosmic Love" that impressed me is its outrageous use of color. The premise is bizarre and sort of hot, too – a variation on anime tentacle-rape scenarios.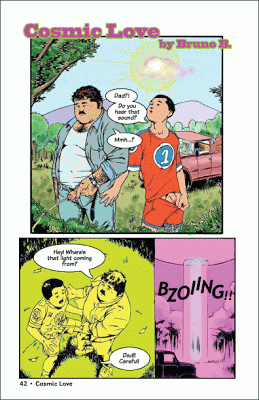 Buy this issue if you can.
0 Comments