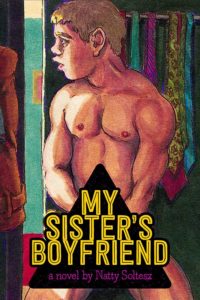 It's pornographic, it's literary, it's exactly what you think it is and probably a good bit more: my first novel is available right now.
"That long, hot summer after I graduated from college. The summer I wasted in my hometown, smoking pot and working a crappy job at the highway porn store. The summer I started sleeping with my sister's boyfriend Joey…."
Nate Audley is affable, aimless, and prone to the charms of his would-be brother-in-law Joey, a seducer with sexuality to spare. They indulge in the fantasy of forbidden flesh, but Nate can't shake what's at stake: his relationship with his family. Sometimes come is thicker than blood in the first novel from peerless porn writer Natty Soltesz.
Buy it now from Go Deeper Press (or from Amazon via this link).
8 Comments